Amyotrophic lateral sclerosis (ALS), also known as Lou Gehrig's disease, is a fatal neurodegenerative disorder where more than half of the patients die within 2.5 years from the onset of symptoms. ALS is characterized by loss of motor neurons in the spinal cord, brainstem, and motor cortex. Around 30,000 Americans are afflicted with ALS, which arises spontaneously and affects otherwise healthy adults.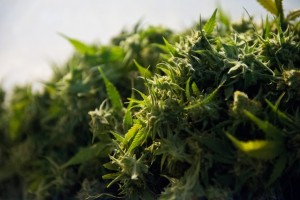 Recent clinical findings indicate that ALS progression can be delayed by cannabinoids, complementing anecdotal reports by patients on the efficacy of cannabinoids in moderating the disease's development and in easing ALS-related symptoms such as pain, appetite loss, depression and drooling.
Investigators at the California Pacific Medical Center in San Francisco reported that the dispensation of THC both before and after the start of ALS symptoms curbed the progression of the disease and extended survival in animals compared to untreated controls. This finding was published in the March 2004 issue of the journal Amyotrophic Lateral Sclerosis & Other Motor Neuron Disorders.
Trials in animal models of ALS show that the dispensation of naturally occurring and synthetic cannabinoids can also temper ALS progression though not necessarily impact survival. A recent study manifested that blocking the CB1 cannabinoid receptor did prolong the life span in an ALS mouse model. This suggests that cannabinoids' beneficial effects on ALS may be mediated by non-CB1 receptor mechanisms.
Based on these encouraging results, experts call for the assessment of cannabinoids for treatment of ALS. A team of investigators reported that based on current scientific data, it is reasonable to conclude that cannabis may substantially slow the progression of ALS, thereby extending life expectancy and substantially reducing the overall burden of the disease. This report was written in the American Journal of Hospice & Palliative Medicine in 2010. The investigators added that there is a tremendous number of preclinical and clinical evidence to merit initiating a multicenter randomized, double-blind, placebo-controlled trial of cannabis as a disease-modifying compound in ALS.